Catherine Chandler - Spotlight Poet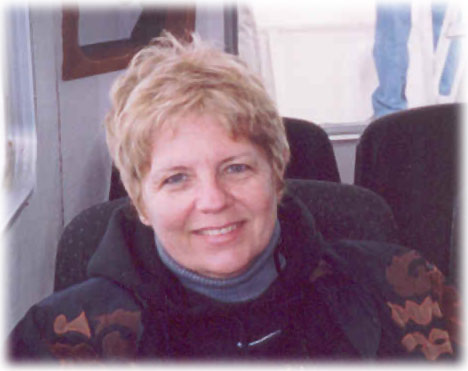 Catherine Chandler, a dual United States and Canadian citizen, is a teacher, translator and university financial administrator. She holds a Master of Arts in Culture and Values in Education from McGill University, and a Bachelor of Arts in French Literature and Spanish. She has lectured in Spanish at McGill and Concordia Universities in Canada, her country of residence since 1972.
Catherine's poems and English translations of Spanish and French formal poetry have been published in numerous print and online journals, magazines and anthologies in the United States, the United Kingdom, Canada and Australia. A Pushcart Prize nominee and finalist in the Howard Nemerov Sonnet competition, Catherine is the author of For No Good Reason (The Olive Press, 2008). She is currently seeking a publisher for her first full-length collection of formal poetry. Her email address is catherine.chandler.poetry@gmail.com .
Catherine lives in Saint Lazare, a small equestrian town in southwestern Quebec, and spends the Canadian winter months in Punta del Este, Uruguay.
§
Introducing Catherine Chandler
— By Timothy Murphy
Patrick Kavanagh once wrote: "I know nothing of women, nothing of cities." I don't know whether he was posing when he wrote that immortal line, but if I'd had the wit to say it, it would be no pose. A significant preponderance of man's best verse is suddenly being written by women, and we celebrated that at the Eratosphere last November, where I inveigled Leslie Monsour to engage in discussion some of her peers. A poet I didn't approach is Catherine Chandler-Oliveira, only because she doesn't yet have a trade press book, and that's the fault of publishers, not Cathy's.
Cathy is une femme d'un certain âge, probably not all that much younger than me, and she has written verse for decades. She brings fifty years of experience and the woman's perspective to her writings, qualities I value. I also treasure formal control over writing, and I think it will be pretty obvious to anyone reading this selection of Chandler's verse that this is not Cathy's first rodeo. I'm new at this job of guest-editing for Alex Pepple, proprietor of the Sphere1 and of Able Muse, but I betray no confidence in saying Catherine Chandler was a unanimous choice.
The test a real poet must pass is memorability, and I want you, readers, to carefully consider Chandler's poem Drought. I have a great deal of personal and ancestral experience of drought. In 1934 and 1988 it just about wiped my clan out. Memorability, it seems to me, proceeds in part from sonics. Look at Chandler's eighth line. Are the four hard C sounds over the top? I don't think so, and I was a farmer. Another element of memorability is accurate observation. A creek bed as a checkerboard of mud. Often observed but never so well expressed. Another element is passion; and like the baby rabbit, my heart is torn by the chimango. I think this poem passes three tests and merits our deep respect.
__________________
1 Editor's Notes: The 'Sphere (or The Sphere) is the common abbreviation for Eratosphere by its members, known as Eratosphereans (or Sphereans).