Lining Up for the Tower of Terror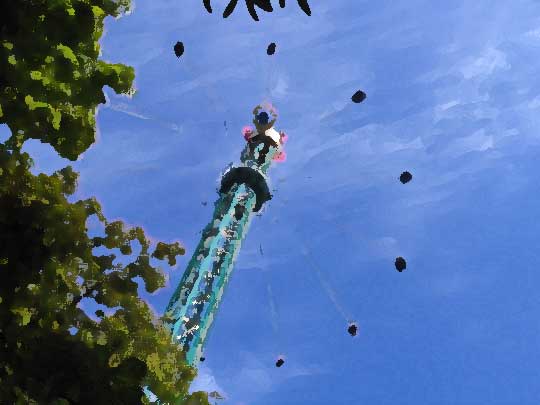 Stig Nygaard

audio: Lining Up for the Tower of Terror
Lining Up for the Tower of Terror
(Disneyworld, 2007)
Grouped by long queues in a windowless basement,
Standing on slab ramps of rigorous, mellow
Gray, between rails sprayed industrial yellow,
Eager and damp as sardines, wait the damned.
One floor above, an elaborate mansion —
Dim with nostalgia — grows into a tower
Twelve stories high, a Victorian vision
Stained but familiar the damned are awaiting
Thrilling ascent through, in new elevators.

Unlearned but curious, lonely and loud,
Shod with flat rubber soles, shudders the crowd.
Tall and gaunt bellhops attend them in crimson,
Packing them — friendless and coupled alike —
Into their journey.
A paltry elect
Reaching the end of the line circumspect,
Shortly reluctant to ride now, faint-featured,
Opt for an exit, before the last call.

Led by some lone, extra bellhop to safety,
Looking back once at their fellows aligning
Plot-coded squares for the imminent lift,
Those who escape are grape phantoms.
They sift
Strangely through tunnels, and past the grate vents,
Back to the affluent drawing room entry
Grounded with woolens, a tin-armor sentry
Grasping its halberd, exact at their fringe.

Outside it's raining, the gates slicked with drizzle,
Spanish moss spooking the willow leaf oaks.
Hear the mortality hush their discussions
Down to the creeping of hesitant drawls,
Braking their pace to a parking lot crawl,
Far beyond fear, and high-priced, fizzing cokes.