R.S. Gwynn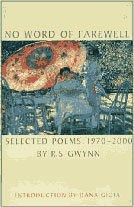 No Word of Farewell - Story Line Press (June, 2000)
... more
R.S. Gwynn was born in Eden, North Carolina, in 1948. He attended Davidson College, where he played football, twice won the Vereen Bell Award for creative writing, and served as a member of Davidson's championship team on the General Electric College Bowl. After receiving his B.A. in 1969, he did graduate work at the Breadloaf School of English and entered graduate school at the University of Arkansas, earning the M.A. in 1972 and the M.F.A. in 1973. While a student at Arkansas, he received the John Gould Fletcher Award for Poetry. He has also won the Breakthrough Award from the University of Missouri Press and, in 2004, the Michael Braude Award for Light Verse from the American Academy of Arts and Letters.

In 1973, Gwynn began his teaching career as an instructor of English at Southwest Texas State University. In 1976 he moved to Beaumont, Texas, to teach at Lamar University. In 1997 he was named University Professor, Lamar's highest academic rank, and he has also been recognized as an outstanding teacher by Phi Kappa Phi, the national academic honor society, and as an outstanding scholar by the College of Arts and Sciences. He was named Distinguished Faculty Lecturer at Lamar for the year 2001 and was named University Scholar in 2004. In 2007 he was named Distinguished Poet-in-Residence.

Gwynn began publishing while an undergraduate, with poetry, fiction, and translations appearing in the New England Review and the Sewanee Review. His first collection of poetry, Bearing & Distance, appeared from Cedar Rock Press in 1977 and was followed by The Narcissiad, a satirical poem, in 1982. His book of poems The Drive-In won the Breakthrough Award from the University of Missouri Press in 1986. No Word of Farewell: Poems 1970-2000 appeared from Story Line Press in 2001. His poems appear in a number of anthologies and textbooks, including Twentieth-Century American Poetry (McGraw-Hill, 2004), The Made Thing: Contemporary Southern Poetry, Literature: An Introduction to Fiction, Poetry, and Drama, Sound and Sense, Western Wind, Rebel Angels: Twenty-five Poets of the New Formalism, The Book of Forms, Poetry 180 More. In 2001 his poems were featured online at Poetry Daily and PoetryNet, and his poems have been read four times by Garrison Keillor on NPR's The Writer's Almanac.

Gwynn's criticism of contemporary poetry began to appear in little magazines in the mid-1970s. Since then he has been a regular contributor of reviews to the Sewanee Review and the Hudson Review. For five years beginning in 1987 he wrote "The Year in Poetry" for the Dictionary of Literary Biography Yearbook, and he later edited two volumes of the DLB on contemporary American poetry. He is currently working on a volume of his selected criticism and serves as advisory editor for Review of Texas Books.

Gwynn has also edited anthologies of literature and criticism, among them The Advocates of Poetry: A Reader of American Poet-Critics of the Modernist Era, New Expansive Poetry: Theory, Criticism, History, and The Longman Anthology of Short Fiction (with Dana Gioia), which appeared in 2000. Four anthologies from the Penguin Academics Pocket Anthology series—Poetry, Fiction, Drama, and Literature—were published in 2001, and new editions appeared in 2004; the Canadian editions of the series (co-edited with Wanda Campbell) also appeared in 2004. He has currently edited (with April Lindner) Contemporary American Poetry: A Pocket Anthology, which was published in 2005.

Gwynn has lectured and given poetry readings at over one hundred universities. He has been a faculty member at the Antioch Writers Conference, the Teaching Poetry Institute, and, for many years, the West Chester University Poetry Conference, teaching classes in poetic meter and form, the sonnet, and the dramatic monologue.

An avid outdoorsman, he lives in Beaumont, Texas, with his wife, Donna. They have three sons and three grandchildren.