Solitaire Miles: Featured Artist & Musician
Intro & Hear Solitaire Miles sing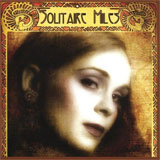 Solitaire Miles is our first featured artists and musician. She is an acclaimed artist and Jazz singer. We hope you'll enjoy the audio and visual selection of her work, along with accompanying reviews and interviews. More information can be found from her website.
§
Solitaire Miles Jazz clips
Interviewed
Solitaire Miles' First Show was reviewed Her Times in April, 2008. A reprint of that review follows.
§
I want her job
Solitaire Miles: Artist, jazz singer
By Pam Liccardi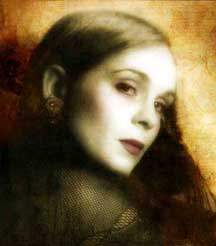 H E A R S O L I T A I R E
Many little girls stand in choir concerts thinking they'd like to make it big someday. Usually it's a dream that stays in the back of their heads but never quite becomes reality.
But it did for Erie native Solitaire Miles. She's made her living as a singer for more than a decade, and she recently added artist to her repertoire of talents. She relocated from Erie to Chicago, which she says reminds her of her hometown because it's a "blue-collar, working-class town with traditional middle-class values." But no matter where she calls home, she's living proof that with hard work, your dreams can come true.
When did you move from Erie to Chicago?
I moved to Chicago in 1992, to attend De Paul University, where I studied voice. I moved to New York City and then to Los Angeles. After a few years, I returned to Chicago, which I feel is almost like my hometown, only bigger. Chicago has the same feeling and flavor of Erie, only on a grander scale with a larger economy.
When did you first realize you wanted to be an artist?
I realized I wanted to be an artist in 2005, after having heart surgery to correct a birth defect in my heart. I was unable to sing and was stuck at home recovering. I was very bored. My husband got me a copy of Photoshop for my computer 4 and a Wacom graphic tablet. I began studying Photoshop tutorials online, then eventually took some classes. I used to casually practice traditional art methods, like sketching and acrylics, just for fun over the years, but none of it really kept my attention for long. Photoshop did.
What makes art so important to you?
It is a great way to express ideas and to release feelings, as well as convey experiences as you go through life. Music allows this, too, but I have found that art can be more universal to the public. I am a jazz vocalist, and if I record a jazz tune, not everyone is interested in hearing it because it is a specific genre. They might say, "Oh, I don't like jazz, it's boring." But they are more likely to consider something that they see quicker than what they can hear. I guess it's a more immediate experience for them.
How has your life influenced your art?
My mother is an artist, although she is very shy about sharing her work. She raised me with an artist's eye, I suppose, and the drive to create visual imagery from my experiences and intellectual ideas. My career as a jazz vocalist has allowed me a lot of travel and experiences as well, that I am sure affects my artwork. I have spent a lot of time creating imagery for people with words and music, and that prepped me for conveying the same ideas in a visual manner.
Who is your favorite artist?
I love so many. People have compared my work to the Pre-Raphaelites, like John Waterhouse, and the Symbolists, but I love period portraits of people in the 1930s and '40s because I sing a lot of material that was written at that time.
What is your favorite song to sing?
"Lush Life" by Billy Strayhorn. There are so many little musical changes and turns in that song, that you can never be bored with it. Musically, it's written as carefully and brilliantly as a Shakespeare sonnet.
What advice would you give someone who wants to make their living as an artist or a singer?
Become your own salesperson. When you are an artist or musician, you are the product, as well as its seller, and you really have to learn to deal with that. You have to be able to step outside of the art or music experience, and look at yourself as a product that you are selling.
Unless you are very wealthy and can afford your own publicist these days, you have to start from the bottom and move up. You really have to believe in yourself and be willing to sell what you've got, no holds barred. And be ready for lots of rejection, because you'll fail nine times out of 10; that's typical, unless you're throwing tons of money around. Love what you do for what it is, and any rejection or criticism will just roll off of your back. Most importantly, keep a day job. Don't try to make a living on your talent until you have become well-established.
Vital Stats
Occupation: Professional singer for 13 years; artist for two years
Age: 41
Family: Husband, John Robertson; two Australian Cattle Dogs, Sophie and Charlie
Current hometown: Barrington, Ill., a suburb of Chicago
Favorite book: "Jane Eyre" by Charlotte Brontë
Preferred media for her art: Digital painting with a Wacom pen and tablet, and photomanipulation
Web site: www.solitairemiles.com
Reviewed
Solitaire Miles First Show was reviewed in The Erie Times Tangent newspaper in April 2007. Here is what the reviewer had to say about her digital art at her exhibit at Glass Grower's Gallery in Erie, PA.
§
The Salon
By Luke Gehring
"Paint what you know," said the Impressionists and, on average, women portray women better than men and visa versa. We know our own bodies and have an internal knowledge of our sex's sensual qualities. All else is projection, and while valid, women have often criticized male portrayals of women. With the exception of Lillian Genth, 19th century women were not particularly engaged by the nude, yet "Autonomy and Grace," a new exhibition by Solitaire Miles at Glass Growers Gallery, 10 East 5th Street Erie, PA, USA, until May 8, 2007; harkens back to precisely that era's imagery.
The most recent work, digital prints, a medium suited to a recent recuperation period, involves many influences from Klimt, Blake, surrealists, French feminist theory and most evident, the Pre-Raphaelites.
Her l'aube du Venus is a wholly contemporary take on a classic theme. Some locals will say that this image is acceptable because she is, after all, covering herself up; missing the point. The nude is not inherently erotic, quite the contrary. A strip-tease will always be more titillating than a nudist colony. Artists use nudes for beauty and as metaphor for strength, virtue, innocence etc. To incite the erotic you either have to become graphic, or cover-up the figure (throwing in a little shame doesn't hurt either).
The ancients often did this with images of Venus, for by her "modestly" covering up; the artist draws the viewer's attention to what was being covered up.
This Venus has a provocative glance, quite unlike Bouguereau's Return of Spring. She pushes the point further with Femme Elizabethaine, setting the corseted figure, set off by the ruff, as the object of desire. This corset, however, is such an anachronism that it distracts me.
An anachronism which works better is Medieval Nymph, which clearly harkens back to the Pre-Raphaelite love of pretty, preferably redheaded, costumed girls. The Water Nymph seems obviously indebted to Hale's Moonlit Pool, though here, as elsewhere, the Solitaire has taken it in a different direction. Another possible derivation is Merlin Trapped Within the Oak, a Pre-Raphaelite like theme, from Waterhouse's Hylas and the Water Nymph, though again with a personal spin.
Other references are more modern such as the violin as female, while it is hard to escape The Silence of the Lambs in The Gulf.
Still, if you need a touch of the Romantic, this is the show for you.
More at Solitaire Miles's website: www.solitairemiles.com