Featured Poet: Stephen Kampa - Interviewed by Chelsea Woodard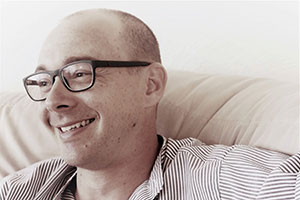 FEATURED POET
Interviewed by Chelsea Woodard
Stephen Kampa was born in Missoula, Montana, and raised in Daytona Beach, Florida. He holds degrees from Carleton College and the Johns Hopkins University. His books are Cracks in the Invisible (Ohio University Press, 2011), Bachelor Pad (Waywiser Press, 2014), and Articulate as Rain (Waywiser Press, 2018). His poems have appeared in Best American Poetry 2018 and Together in a Sudden Strangeness: America's Poets Respond to the Pandemic (Knopf, 2020). He has also worked as a musician for over a decade, and his session work can be heard on Robert "Top" Thomas's The Town Crier (WildRoots Records) and Victor Wainwright's Boom Town (Blind Pig Records). Currently, he teaches at Flagler College in St. Augustine, Florida.
◊ ◊ ◊ ◊
     CW
When did you start writing poetry?
     SK
In my mother's house, there is a hardcover navy-blue book titled A Celebration of Florida's Young Poets: 1996. Somehow, I am in this thing. The poem itself is so embarrassing that I dare not quote a single line, although I can tell you I thought it was a good idea to end with an abrupt reversal—and a dash. I mean, really, it's not so bad for a middle-schooler, I guess. In any case, it seriously undercuts the narrative I usually tell myself, which is that I started writing poetry in high school under the guidance of an exceptional English teacher. That is still true, but now I have to admit I was apparently writing poetry somewhat earlier than that. I just have no memory of it.
  When my mother and I discussed this episode, she added that she remembers me writing poetry at an even younger age. In fact, she recalls saying to me when I was quite young and had gotten some minor recognition for a poem, "You're going to be a poet one day!" and I responded, "I hate poetry!" When she told me that, I laughed and said, "Sometimes I still do."
     CW
What, to you, makes a good poem?
     SK
Despite the one-liner, I am discovering that as I get older and read further outside my aesthetic, I find more to love. Once I disliked what I perceived to be the sloppy, pedestrian poems of Frank O'Hara; now, it is precisely his improvisational sprightliness and the elevation of the mundane that I admire in his work. Learning to love O'Hara probably prepared me to enjoy the work of Tommy Pico, too, whom I can imagine many formally inclined writers not appreciating at first. Yet O'Hara and Pico give us the world, they give it to us as it actually feels and happens, and that is a quality I associate with superb lyric poetry all the way back to the odes of Horace.
  I know it is probably trite to invoke Pope at this juncture, but that bit about how to read—"A perfect judge will read each work of wit / With the same spirit that its author writ"—is one I have always been happy to misread: doing so gives readers permission to love a lot of poems as long as we understand them on their own terms.
  Any generalization I offer about what makes a good poem will exclude other poems I love that simply ask to be read by different lights. If I say I love the vivid, specific concrete particulars of a "thick description" poem—yesterday in class, for example, we read "Oranges" by Gary Soto, with that lovely moment where the speaker says, "I turned to the candies / Tiered like bleachers," and you can feel quite viscerally from that one detail his sense that this proto-date is like a sporting event where he might biff the long shot and lose the game—then I exclude poems that are uninterested in thick description, such as the fine lyric by Thomas Campion that ends with this stanza:
This time doth well dispense
With lovers' long discourse;
Much speech hath some defense,
Though beauty no remorse.
All do not all things well:
Some measures comely tread,
Some knotted riddles tell,
Some poems smoothly read.
The summer hath his joys,
And winter his delights;
Though love and all his pleasures are but toys
They shorten tedious nights.
I suppose there is some level of specificity in those measures, riddles, and poems, but not nearly the level we are accustomed to in our more image-oriented era. Yet how lovely the music here, and how smart the argumentative swerve, and how perfect that pentameter line right before the final trimeter!
  Perhaps it is the closeted Christian Universalist in me, but I would like to believe that at some point I will be able to see the good in all poems—and here I am put in mind of one more, "A Wood" by Richard Wilbur, in which he draws an analogy between the biodiversity of a forest and the diversity of our religious understandings. The final stanza includes the lines:
Given a source of light so far away
That nothing, short or tall, comes very near it,
Would it not take a proper fool to say
That any tree has not the proper spirit?
Whatever poetic ideal invites our poetic responses is also a "source of light so far away" that it might be foolish of me to make too bold a claim about poetic goodness. I am glad to have a chance to talk about this with you, though, because only in thinking about your question has it occurred to me that there is a lovely verbal echo of Pope's dictum in Wilbur's last line.
     CW
So, we have to talk about form. Were you always a formal poet? Does your ear gravitate to an iambic meter? How did your interest in form emerge?
     SK
Perhaps I might approach these questions in reverse order.
  My interest in form, like my interest in poetry itself, developed because I had a great teacher. At some point during my undergraduate poetry course, I grew frustrated with work that struck me as opaque. (We were reading, among others, . . .
. . . . . . .
[ subscribers: login for full text ]