Featured Poet: Jehanne Dubrow - Interviewed by Anna M. Evans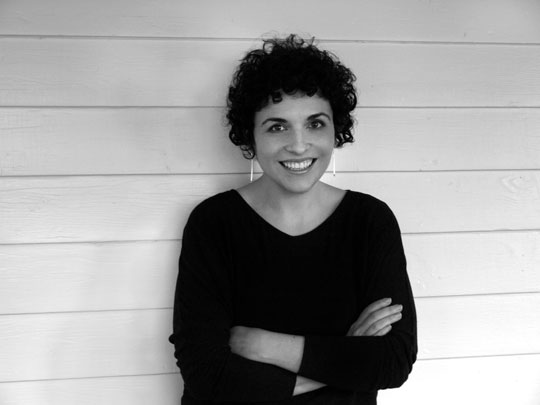 EXCERPT:
FEATURED POET
Interviewed by Anna M. Evans
Jehanne Dubrow is the author of four poetry collections, including most recently Red Army Red and Stateside (Northwestern University Press, 2012 and 2010).Her first book, The Hardship Post (2009), won the Three Candles Press Open Book Award, and her second collection, From the Fever-World, won the Washington Writers' Publishing House Poetry Competition (2009). She has been a recipient of the Alice Fay Di Castagnola Award from the Poetry Society of America, the Towson University Prize for Literature, an Individual Artist's Award from the Maryland State Arts Council, a Walter E. Dakin Fellowship and Howard Nemerov Poetry Scholarship from the Sewanee Writers' Conference, and a Sosland Foundation Fellowship from the Center for Advanced Holocaust Studies at the U.S. Holocaust Memorial Museum. Her poetry, creative nonfiction, and book reviews have appeared in The New Republic, Poetry, Ploughshares, The Hudson Review, Prairie Schooner, American Life in Poetry, and on Poetry Daily and Verse Daily. She serves as the Director of the Rose O'Neill Literary House and is an assistant professor in creative writing at Washington College, on the Eastern Shore of Maryland.
◊ ◊ ◊ ◊
AME: You have published four books in four years, which makes you either very talented or very lucky—probably both! What advice would you give to those of us, like myself, who are stalled at that often-repeated finalist/semi-finalist stage?
JD: So much of publication comes down to luck. But, in my experience, not every manuscript is right for a book competition; sometimes really excellent poetry collections are likelier to find homes when they're sent to open submission periods instead. Contests often seem to favor really loud—or what I think of as voice-driven—manuscripts, so that a quieter, more meditative book may have a difficult time being heard. It's important to know the "volume" of your poems and to recognize what this means for your manuscript when it's read blind, when it's one of many in a large stack of anonymous collections.
AME: Your identity as a Jewish poet is central to two of your collections, The Hardship Post and From the Fever-World, but takes a back seat in Stateside and Red Army Red. You also wrote an essay for the Mezzo Cammin Women Poet's Timeline on Emma Lazarus and her struggle with the "tension between citizenship and cultural identity." What does being a "hyphenated writer" mean to you?
JD: I see the problem of identity as central to all my work. As you say, in The Hardship Post and From the Fever-World, it's Jewishness that I'm picking apart, trying to figure out what it means, respectively, to be an American Jew in a post-Holocaust landscape or a feminist in a world of Orthodox Judaism.
In Stateside, I ask how one maintains a separate, distinct self while being "married to the military." The military wife is expected to remain fixed and unchanging, while her husband has movement and agency; the poems in Stateside challenge that very restrictive model.
Red Army Red is a book about girlhood. Because I came of age in Poland, during the final years of the Eastern Bloc, I use the oppressive language of Communism to speak about the oppressiveness of the adolescent body. Red Army Red considers the intersection between personal and public identity, between the body and the body politic. I'm always looking for that push-pull, those interesting moments of tension, which shape our identities and make all of us hyphenated creatures.
AME: You and I are of similar ages, so I recall the events in Poland from the perspective of what was happening in the UK at the time. It's fascinating to me that your father actually met Lech Wałęsa! Some moments and places in time embody the spirit of an era, and in Red Army Red, you have captured much of that. To what extent do you believe poets should seek out such moments and places and make it our job to put them on record?
JD: I like the idea that poets—that writers, that artists in general—have a responsibility in what they choose to represent. There's that iconic moment in Anna Akhmatova's "Requiem." The poet-speaker, who is waiting in a line outside Leningrad prison, is asked by another woman, . . .
. . . . . .
. . . .