New Able Muse (Print Edition, No. 13, Summer 2012)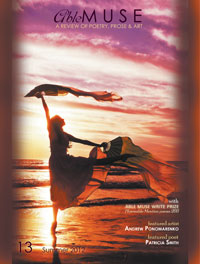 The NEW ISSUE of
ABLE MUSE
, Print Editon (Number 13) - Summer 2012, has just been released, with order/subscription information (for
print
&
Kindle
editions), with online excerpts at:
www.AbleMuse.com
. The digital edition of the complete issue (available to the print edition subscribers only), is also available now online at
www.ablemuse.com
.
WITH THE 2011 ABLE MUSE WRITE PRIZE FOR POETRY —
Includes the honorable-mention poems.
Includes the 2011 Able Muse / Eratosphere 30-Day Workshop poetry & fiction winners.
editorial
: Alex Pepple •
featured artist
: Andrew Ponomarenko •
featured poet
: Patricia Smith (interviewed by Reginald Dwayne Betts) •
fiction
: Janice D. Soderling, Rob Wright, Michael George •
essays
: Peter Byrne, Bruce Bromley, N.S. Thompson •
book reviews
: Stephen Collington •
poetry
: M.A. Schaffner, Brian Culhane, Timothy Murphy, Richard Wakefield, Wendy Videlock, Catharine Savage Brosman, Kim Bridgford, Jennifer Reeser, Julie Bruck, Ned Balbo, Anna M. Evans, Ed Shacklee, Gale Acuff, Matthew Buckley Smith, Adam Penna, Jay Rogoff, Sarah Giragosian, Michael Bradburn-Ruster, Tim Suermondt, Carol Lynn Stevenson Grellas, Rob Wright, Carolyn Moore, John Beaton, Kevin Corbett, T.S. Kerrigan.
Read all the details at
Able Muse
.
----
With special thanks for an outstanding new issue to -- Juleigh Howard-Hobson (Assistant Poetry Editor), Gregory Dowling (Nonfiction Editor), Nina Schuyler (Fiction Editor), Janice D. Soderling, Tim Love & John Riley (Assistant Fiction Editors).




Comments