NEW: Able Muse - Print Edition - Winter 2011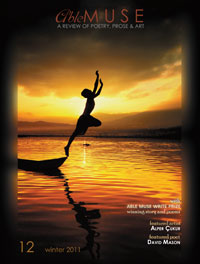 The NEW ISSUE of
ABLE MUSE
, Print Editon (Number 12) - Winter 2011, has just been released, with order/subscription information (for
print
&
Kindle
editions), with online excerpts and the subscribers' online edition at:
www.AbleMuse.com
ABLE MUSE WRITE PRIZE FOR POETRY & FICTION —
Includes winning story & poems from contest winners and finalists.
editorial
: Alex Pepple •
featured artist
: Alper Çukur (interviewed by Sharon Sharon Fischer Passmore) •
featured poet
: David Mason (interviewed by David J. Rothman) •
fiction
: Gilbert Allen, Rachel Bentley, Bruce Bromley, Keith J. Powell, Mary Widdifield, Douglas Campbell •
essays
: Michael Cohen, Seree Cohen Zohar, André Naffis-Sahely, Frank Osen, Andrew Frisardi •
book reviews
: Stephen Collington •
poetry
: Suzanne J. Doyle, Midge Goldberg, Catharine Savage Brosman, Amit Majmudar, Richard Wakefield, Timothy Murphy, Philip Morre, Paul Bone, Alyce Miller, Kathryn Locey, Susan McLean, Rebecca Foust, Lyn Lifshin, Stephen Collington, George Witte, William Conelly, Lew Watts, Jean L. Kreiling, John Beaton, Joshua Lavender, Catherine Chandler, Gabriel Spera, T.S. Kerrigan, Bertran de Born (translated by Maryann Corbett), Achilles Paraschos (translated by David Mason).
... plus
write prize
&
book award
2011 contest submissions & more ...
Details at in the latest newsletter
here
.
----
With special thanks for an outstanding new issue to -- Juleigh Howard-Hobson (Assistant Poetry Editor), Gregory Dowling (Nonfiction Editor), Nina Schuyler (Fiction Editor), Janice D. Soderling, Tim Love & John Riley (Assistant Fiction Editors).




Comments