New Able Muse, Winter 2013 (Print Edition) & The 2014 Contests Now Open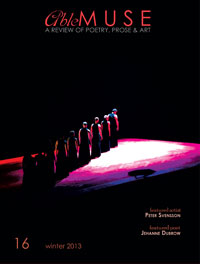 The NEW ISSUE of
ABLE MUSE
, Print Editon (Number 16) - Winter 2013, has just been released, with order/subscription information (for
print
&
Kindle, NOOK, Kobo, & iBooks
editions), with online excerpts at:
www.AbleMuse.com
. The digital edition of the complete issue (available to the print edition subscribers only), is also available now online at
www.ablemuse.com
.
WITH THE 2013 ABLE MUSE WRITE PRIZE FOR POETRY —
Includes the 2013 winning story & poems from contest winners and finalists.
With the winning and runner-up sonnets from the 2013 Able Muse / Eratosphere Sonnet Bake-Off.
editorial
: Alex Pepple •
featured artist
: Peter Svensson •
featured poet
: Jehanne Dubrow (interviewed by Anna M. Evans) •
fiction
: Cheryl Diane Kidder, Charles Wilkinson, Blaine Vitallo, Donna Laemmlen •
essays
: A.E. Stallings, Peter Byrne, Philip Morre, David Mason, Chrissy Mason •
book reviews
: Rory Waterman, Jane Hammons •
poetry
: Rachel Hadas, R.S. Gwynn, Catharine Savage Brosman, John Savoie, D.R. Goodman, Jeanne Wagner, Richard Wakefield, Melissa Balmain, Tara Tatum, Anna M. Evans, Matthew Buckley Smith, Stephen Harvey, Elise Hempel, Marly Youmans, Amanda Luecking Frost, Rachael Briggs, Chris Childers, James Matthew Wilson, Alex Greenberg, Catullus, Sappho, Theocritus.
Read all the details at
Able Muse
.
----
With special thanks for an outstanding new issue to -- Peter Austin, Reagan Upshaw (Assistant Poetry Editor), Gregory Dowling (Nonfiction Editor), Nina Schuyler (Fiction Editor), Keith J. Powell, Janice D. Soderling, John Riley, Rob Wright (Assistant Fiction Editors).
# # #

~~~~~~~~
***2014 ABLE MUSE CONTESTS are now open for submission (WRITE PRIZE & BOOK AWARD)! ***



ABLE MUSE WRITE PRIZE (Poetry & Fiction) - $500 prize each & publication
Judges: Dick Allen - poetry; Amit Majmudar - fiction
Deadline: February 15, 2014
Read the guidelines & ENTER now!


ABLE MUSE BOOK AWARD (Poetry) - $1000 prize, plus book publication
Judge: Molly Peacock
Deadline: March 31, 2014
Read the guidelines and ENTER now!
# # #

~~~~~~~~
PUSHCART 2014 NOMINATIONS:
Congratulations to Eratosphereans R.S. Gwynn, Richard Wakefield, and others -- announcement and full list
here
.




Comments